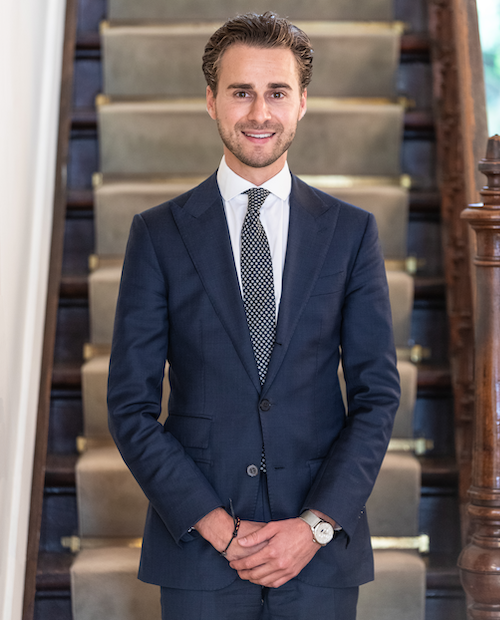 mr. Philippe Kerckhoffs
Attorney
Law specialities
Corporate Law
Commercial law
Insolvency law
Philippe joined Kerckhoffs Attorneys at Law in September 2017. In October, he completed his Master's degree in private law (cum laude) at Maastricht University. To broaden his horizons and gain experience, he worked at several large law firms in the Randstad last year. Last summer, he made a conscious decision to join a firm that focuses mainly on businesses.
"The human dimension I've felt in the practice of Kerckhoffs Attorneys since I was a kid, combined with the interesting businesses we serve, made me want to be part of this team of enthusiastic and passionate lawyers."
Like his father and sister, Philippe has always been interested in and passionate about the law. Philippe is interested in how society works and wants to be as socially involved as possible. He also follows politics with great interest. Besides his studies at Maastricht University, he also studied in London for a few months. After graduating cum laude with a Master's degree in private law in October 2017, he initially worked at a few large law firms in the Randstad area before continuing his career at Kerckhoffs Attorneys at Law. During his internships, Philippe confirmed to himself that choosing to become a lawyer was the right decision. In his work at Kerckhoffs Rechtsanwälte, Philippe focuses on corporate and insolvency law. What always drives him is to achieve the best possible result for his clients and thus create real added value for them. Philippe has tremendous entrepreneurial drive. Until recently, he had his own lighting and sound rental company and was closely involved with various organisations during his student days.
In the coming years, Philippe would like to focus on further specialisations within Kerckhoffs Attorneys at Law in order to provide clients with an even better service and to ensure and maintain the firm's expertise. At the same time, he wants to maintain the values and standards of the family business. His goal? To become a partner together with his sister Valérie and other ambitious lawyers and to continue the family business.
Philippe Kerckhoffs has registered the following area of law in the register of legal entities of the Dutch Bar: business law. This registration obliges Philippe to acquire ten continuing education credits in this registered area of law every calendar year in accordance with the standards of the Dutch Bar Association.