"Being able to help someone, on any level, provides for a good feeling. In persons and family law a case embodies not only juridical but also personal aspects; both of which I offer support with."
As a member of the Kerckhoffs family, a study in law was a logical choice for Valérie. After having completed her master in private law, whilst also having followed courses in corporate law, at the University of Maastricht, she moved to London. Within her time there, she came to master legal English.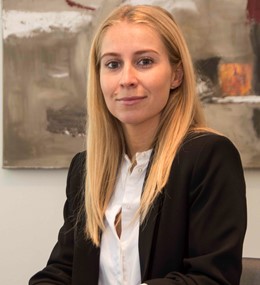 Since being twenty-three, Valérie has committed herself to both her clients and the office itself at Kerckhoffs Advocaten. She is responsible for the management of the office as well as the department of persons and family law, and the law of debt collection. It is the same drive, which is to devote herself to her clients and excel in what she is doing, where Valérie's joy in part-taking in the Rotaract Maastricht, a service-club which supports different charities, derives from. On top of this, Valérie is also a board member of the Jaarboek (yearbook) Maastricht, where the highlights of the preceding year in the city of Maastricht are recorded.