Philippe has been working at Kerckhoffs Advocaten since September 2017. In October 2017 he graduated cum laude from his master in private law at Maastricht University. In order to broaden his horizons and gain more experience, he worked at several big law firms in the 'Randstad'. In the preceding summer of 2017, Philippe chose to work at a law firm which is primarily specialised in corporate law.
"The 'personal perspective', that I have come to notice and experience from a young age, combined with the interesting companies which we represent, have driven me to be part of a team of inspiring and passionate attorneys."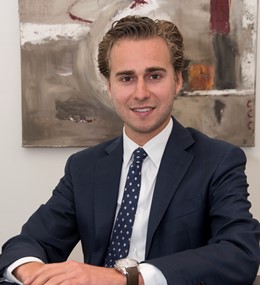 Similar to his father and sister, Philippe has always cherished a passion and interest in law. Philippe is interested in how the society works and wants to be, as much as possible, socially involved. Moreover, he places importance on following politics.
Alongside his studies at Maastricht University, Philippe also studied in London for a couple of months. Post graduating cum laude from his masters in private law in October 2017[1], he began working at several renowned, larger, law firms in the Randstad before he continued his career at Kerckhoffs Advocaten. In the process of completing his internships, Philippe was rest assured that a legal profession indeed was the right path for him.
At Kerckhoffs Advocaten, Philippe places his focus on corporate and insolvency law. What continuously drives him, is reaching the best possible result for his clients, therefore being of added value to his clients.
Philippe has a great corporate drive. This is also reflected in the business which he owned and managed which provided for light and sound services. Furthermore, in his time as a student, he was closely involved in many differing organisations.
In the forthcoming years, Philippe would like to devote himself to more specialisations within Kerckhoffs Advocaten. This, in order to be of better service to his clients and to guarantee and maintain the expertise of the firm. Likewise, he wants to maintain the norms and values of the family business. His ambition is for him, together with his sister and other ambitious attorneys, to become partner of the firm and continue the family business.